Come through the Castle Store and enter a magical world of friendly animals and Enchanted Forest treasures. While in the store, you can find children's toys and books, Enchanted Forest souvenirs, our farm-raised 100% grassfed beef and pastured pork, and other locally-produced foods to take home and enjoy.
As you may know, the petting farm is only a one part of our farming operation. On other parts of our farm, we have a herd of 100% grassfed beef cattle and pigs in our pastures. The beef and pork are available in our Castle Store Farm Market whenever the petting farm is open. You can just come in the Castle Store and shop whenever we are open Tuesday through Sunday. Our cows are 100% grassfed on our farm and our pigs are pastured raised and offered non-GMO blend of grains. None of our animals every received synthetic hormones, steroids, low-level antibiotics or animal byproducts. We sell our farm-raised all-natural seasonal vegetables and fresh herbs in our Castle Store, too. We proudly sell great products from local food vendors, including Hex Ferments, Michelle's Granola, Huckle's Hot Sauces and Dress It Up Dressings. Check out all these great local foods the next time you come to visit the petting farm, or make a special trip for some of our tasty steaks, roasts, bacon or sausage.
We are pleased to feature the delicious treats from two local businesses: Scoop & Paddle Ice Cream Co and Touche Touchet Bakery. Whenever you get the craving, you can come to our store to get the great ice cream flavors from Scoop & Paddle. Renee and Nadine Crisitello (local moms from Clarksville) are passionate about ice cream! It's the ice cream of your childhood, the ice cream of your best day in the park, of your fondest vacation memory!! Only better. Each hand-crafted batch is made with the best ingredients available. Try their Vanilla, Chocolate, Salted Caramel, Mint Chocolate Chip, and Rise Up Espresso Chip!! Fantastic!!
Touche Touchet Bakery was recently listed on FlipKey's list of 50 States Series: Best Local Bakeries Worth Traveling For. We will be featuring some of their delicious quick breads and cookies in our store throughout the year. Come by and get some delicious treats!
We are committed to finding merchandise to sell in our Castle Store gift shop that is Made in America. We have eco-friendly and kid-safe, Green Toys and Imagination Box Company's creative barn to color. For action toys, we have Made in America foam balls and footballs. Please come and "Buy American" from us.
Of course, we also have wonderful and unique items that you can't find anywhere else. Purchase them at our Castle Store or online below:
---
The Enchanted Forest:
Memories of Maryland's Storybook Park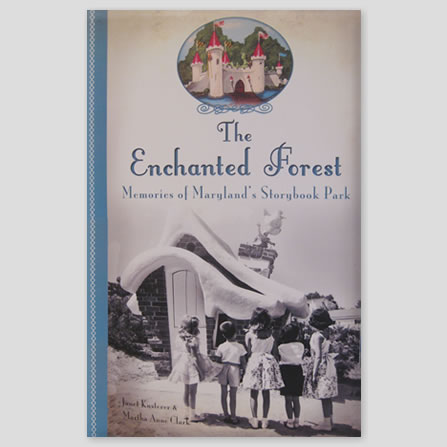 Written by Janet Kusterer & Martha Anne Clark (published August 2013).
The history of the Enchanted Forest is one of magical beginnings. When it first opened in 1955, Ellicott City's storybook land became the first children's theme park on the East Coast. Young visitors could climb aboard rides like the Little Toot tugboat, Mother Goose and Ali Baba or encounter animals like peacocks and burros. Upon its closing in 1989, Marylanders who cherished memories of the Enchanted Forest were deeply disappointed. However, many of the park's beloved figures were moved to nearby Clark's Elioak Farm, where they were restored and displayed to the delight of new generations. Even today, the farm is a popular destination that evokes the whimsical spirit of the iconic park. Local author Janet Kusterer and Martha Clark of Elioak Farm trace the park's history through vintage images and interviews with the Harrison family, former employees and visitors. Join Kusterer and Clark to rediscover the magic of the Enchanted Forest.
$19.99 for the Book (signed by both authors) (Add $1.20 tax for purchases WITHIN Maryland) plus S&H
---
The Enchanted Forest DVD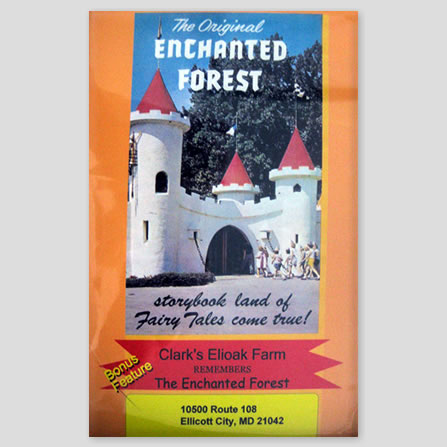 The Original Enchanted Forest - storybook land of Fairy Tales come true! - with the Bonus Feature of Clark's Elioak Farm Remembers The Enchanted Forest
Taken in May 1987, this DVD takes you on a 60 minute walking tour of each building and ride.  There is a short introduction about the history of the Enchanted Forest.  Keep in mind that the footage was taken on a home video camera and transferred to DVD, so at times the footage is a little distorted.  The DVD was remastered in 2009 at which time additional footage was added from Clark's Elioak Farm. 
This Bonus Feature includes a 25 minute walking tour of the petting farm and a view of many of the Enchanted Forest attractions that have been moved to Clark's Elioak Farm and restored to their former glory. Take a walk down memory lane, enjoying all of the wonderful features from the Enchanted Forest that you remember from your trips to the park, and then end up at our farm.  What could be better?!!
$25.00 for the DVD  (Add  $1.50 tax for purchases WITHIN Maryland) plus S&H
---
The Wonderful Enchanted Forest Story Book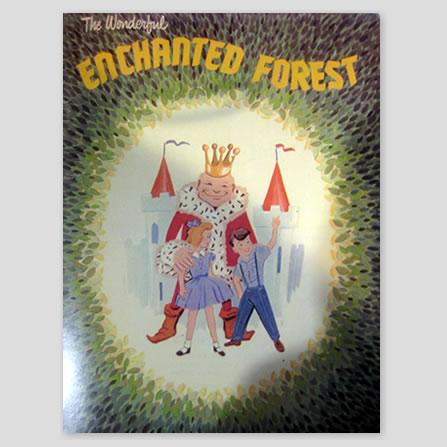 The Enchanted Forest Story Book has been reproduced from the original and is now once again available for sale. It begins, "Mother Goose was unhappy!  All the friendly folk of Mother Goose Land lived so far apart!  Why, Little Boy Blue had his haystack way down in Farmer Brown's field. Little Miss Muffett sat on her tuffet still farther away. As for the Old Woman who Lived in a Shoe, she had moved to the city, and Mother Goose hardly ever saw all those children.  So ... Relive your childhood, with this adorable children's story book.
$8.95 for the story book (Add $.55 tax for purchases WITHIN Maryland) plus S&H
---
The Wonderful Enchanted Forest Coloring Book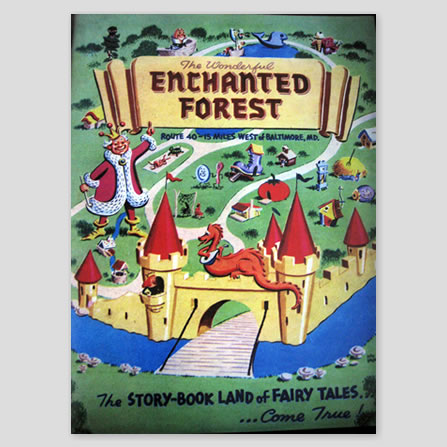 This 24-page coloring book, a reproduction of the original, features the major attractions from the park.  Another wonderful souvenir from the original Enchanted Forest reprinted for you to share with another generation of children who know and love these nursery rhymes and fairy tales
$3.50 for the coloring book  (Add $.21 tax for purchases WITHIN Maryland) plus S&H
---
Trusty the Tractor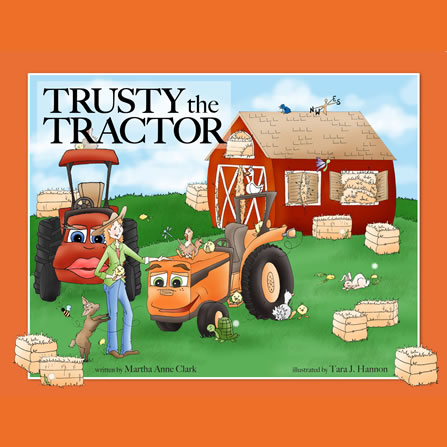 Our favorite goat, Eli, invites you to read this story about Trusty the Tractor.  Trusty pulls the hayride at Clark's Elioak Farm but dreams of doing the jobs that the bigger tractors do.  One day he gets a chance to "save the day"--but is he too little to do the big tractor's job.  Read along with Eli and see what happens on the farm.
$8.95 for the story book (Add $.55 tax for purchases WITHIN Maryland) plus S&H
---
Trusty the Tractor's Day Off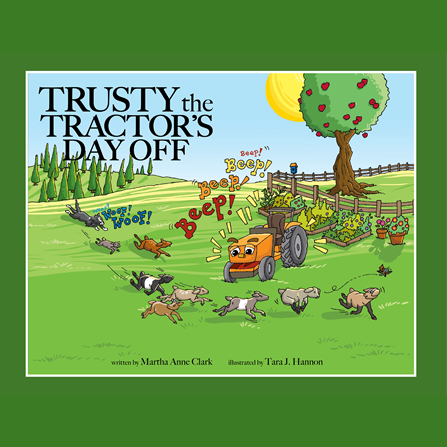 Oh no, Clark's Elioak Farm's favorite goat, Eli, is on a great adventure and he is taking the other goats with him!  What is Trusty the Tractor going to do to keep them from getting into trouble? Read along with Eli and see what happens on the farm.  It's a very busy "day off" for Trusty.   You can also find a butterfly on each page. Join Trusty the Tractor on his second farm adventure, and along the way, visit all of your favorite places and animals at Clark's Elioak Farm once again!
$8.95 for the story book (Add $.55 tax for purchases WITHIN Maryland) plus S&H
---
2018 Seasons Pass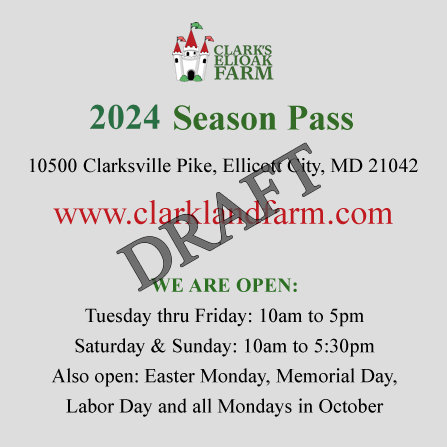 2018 Season Passes can be purchased at the Castle Store when you are visiting the Farm or at our Online Store. The Season Pass covers Admission only. The Pass covers Immediate Family only—parents and children. A grandparent or nanny can substitute for the parent for visits when the parent cannot come.
Family of Two: $75.00 ; Family of Three: $105.00 ; Family of Four or more: $130.00
---
Gift Certificates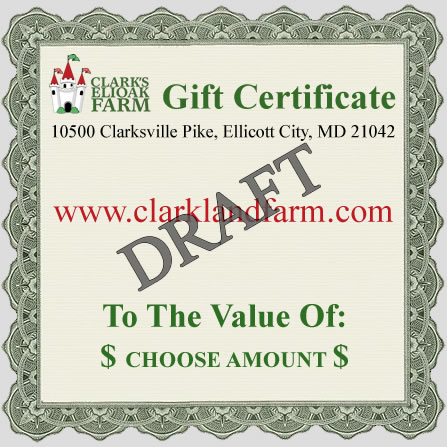 Can be purchased for a family or group:
For example:
4 free admissions
4 free hayrides
2 free pony rides  
... would be $36.00 (if picked up at the farm - $2 extra to ship if done online here)
Can be purchased for a dollar amount:
The cost would be for the amount of the gift certificate (if purchased at the farm- $2 extra to ship if done online here).
---